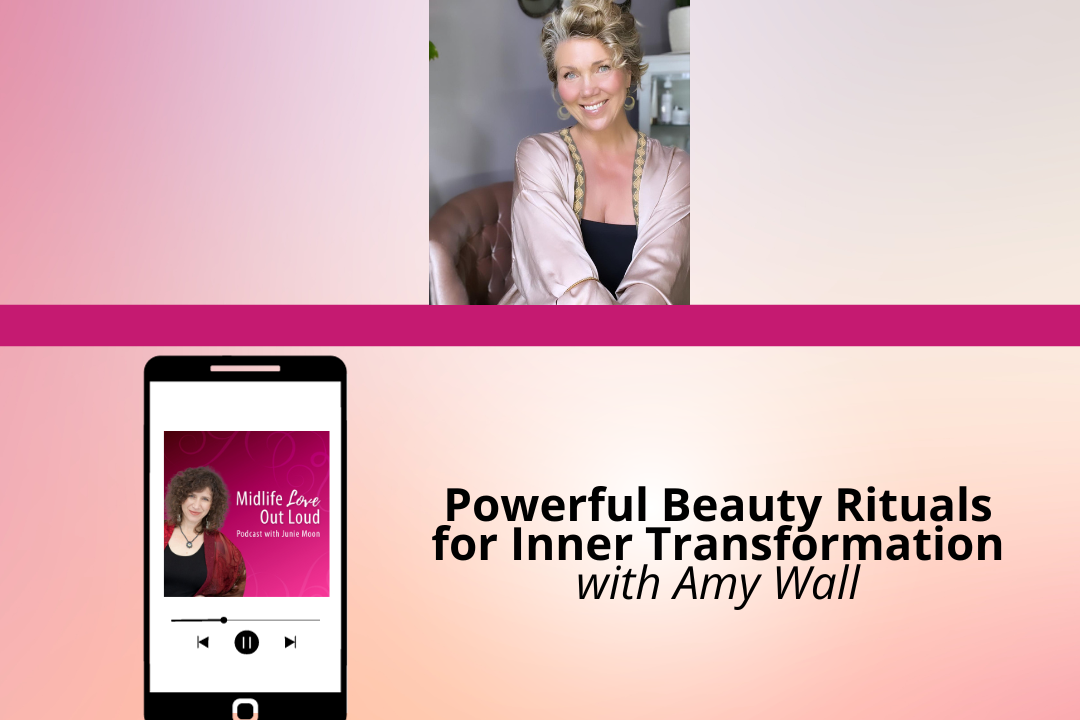 Getting older is no small thang! Not only is your body changing, your society has conditioned you to think you've lost value. When you're wanting to date and feel amazing, this inner negative self-talk can wreak havoc on your confidence.
I just had a captivating conversation with the remarkable Amy Wall,  an esteemed esthetician who ties consciousness and beauty together.
Amy Wall takes us on a profound exploration of self-image and emphasizes the transformative power of inner image work. We talked about embracing natural aging and navigating the relentless pressures of societal beauty standards.
Amy Wall is an award-winning esthetician leading the beauty industry forward with consciousness.
With 20 years of experience, Amy was mentored by the formulator who discovered the peptide for the cosmetic industry, giving her a unique insight into the behind-the-scenes of skincare science.
Amy's fascination with beauty and wellness began in 1984 when she began meditating in the mirror while applying her skincare products.
As a pioneer and visionary of conscious beauty, Amy is committed to using only natural and sustainable ingredients in her products. Her dedication to ethical and environmentally friendly practices, along with adding consciousness to our everyday skin routines, has earned her a reputation as a maverick in the industries of beauty and skin.
With her expertise, knowledge, and devotion to combining topical ingredients, energy, and the power of the self-image, Amy will help you take back the reins of how you feel about yourself as you age and transform you from a Sleeping Beauty into an Awakened Muse.
Check out her Discover Your Beauty Muse Quiz here: https://higherselfbeauty.com/pages/quiz
The Beauty Blueprint course found at the bottom of each quiz result and in the email sequence here: https://higherselfbeauty.com/products/the-beauty-blueprint
Enter this code to receive at no cost: juniemoon
FB and IG social media handles:
http://www.instagram.com/the.skintessa
http://www.facebook.com/theskintessa
Come to the "Ignite Your Queen" retreat in Sedona. Click Here to find out the details. Early Bird Special going on now. https://pages.midlifeloveoutloud.com/sedona
Take the "Discover Your Love Avatar" QUIZ!  You'll learn about your super power, the love blocks that hold you back and how relationship ready you are. Go to: https://midlifeloveoutloud.com/lovequiz/
If you'd like some one-to-one coaching with Junie, apply for a complimentary 30-minute Love Breakthrough Session here: https://calendly.com/juniemoon/lbtsession today so she can support you on your love path.
And don't forget to subscribe to Midlife Love Out Loud so that you don't miss a single episode. While you're at it, won't you take a moment to write a short review and rate our show? It would be greatly appreciated!
To learn more about our previous guests, listen to past episodes, and get to know your host, go to https://midlifeloveoutloud.com/  and don't forget to join the FIND FABULOUS LOVE AFTER 40 group on Facebook here: https://www.facebook.com/groups/findfabloveafter40