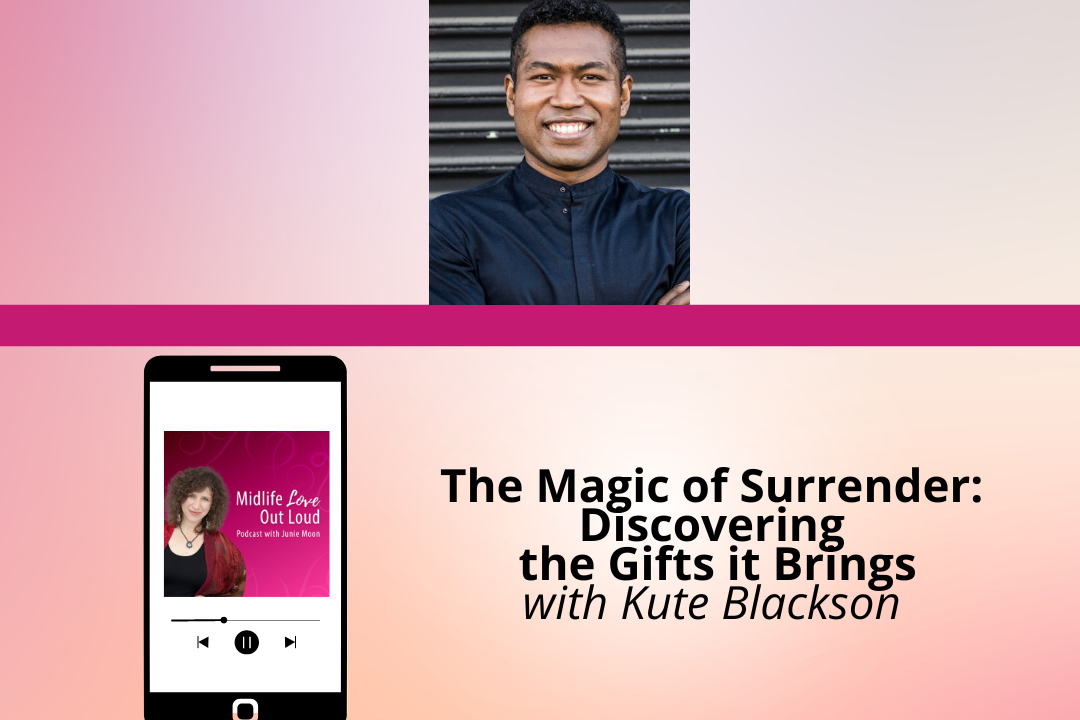 In this captivating podcast interview,  renowned speaker and transformational teacher, Kute Blackson, delves into the profound concept of surrender and the extraordinary gifts it brings to our lives. Join us as we explore the transformative power of surrender and embark on a journey towards personal liberation and calling in your soulmate.
In a world that often encourages control and resistance, Kute Blackson takes us on a remarkable exploration of surrender, revealing its hidden magic and the immense liberation it offers. Through his heartfelt anecdotes, wisdom, and practical insights, he invites us to consider surrender as a potent catalyst for growth, healing, and true love.
KUTE BLACKSON is a beloved inspirational speaker and transformational teacher. He speaks at countless events he organizes around the world as well as at outside events including A-Fest, YPO (Young Presidents' Organization), and EO (Entrepreneurs' Organization). He is a member of the Transformational Leadership Council, a select group of one hundred of the world's foremost authorities in the personal development industry. Winner of the 2019 Unity New Thought Walden Award, Blackson is widely considered a next generation leader in the field of personal development. His mission is simple: To awaken and inspire people across the planet to access inner freedom, live authentically and fulfill their true life's purpose
Join Kute in Bali! Here is the link for his December event : ​​http://www.boundlessblissbali.com/
*Facebook: https://www.facebook.com/kuteblacksonlovenow 
*Instagram: https://www.instagram.com/kuteblackson/ 
Twitter: https://twitter.com/kuteblackson 
YouTube: https://www.youtube.com/user/kuteblackson09 
LinkedIn: https://www.linkedin.com/in/kute-blackson-35755519/
Take the "Discover Your Love Avatar" QUIZ!  You'll learn about your super power, the love blocks that hold you back and how relationship ready you are. Go to: https://midlifeloveoutloud.com/lovequiz/
If you'd like some one-to-one coaching with Junie, apply for a complimentary 30-minute Love Breakthrough Session here: https://calendly.com/juniemoon/lbtsession today so she can support you on your love path.
And don't forget to subscribe to Midlife Love Out Loud so that you don't miss a single episode. While you're at it, won't you take a moment to write a short review and rate our show? It would be greatly appreciated!
To learn more about our previous guests, listen to past episodes, and get to know your host, go to https://midlifeloveoutloud.com/  and don't forget to join the FIND FABULOUS LOVE AFTER 40 group on Facebook here: https://www.facebook.com/groups/findfabloveafter40