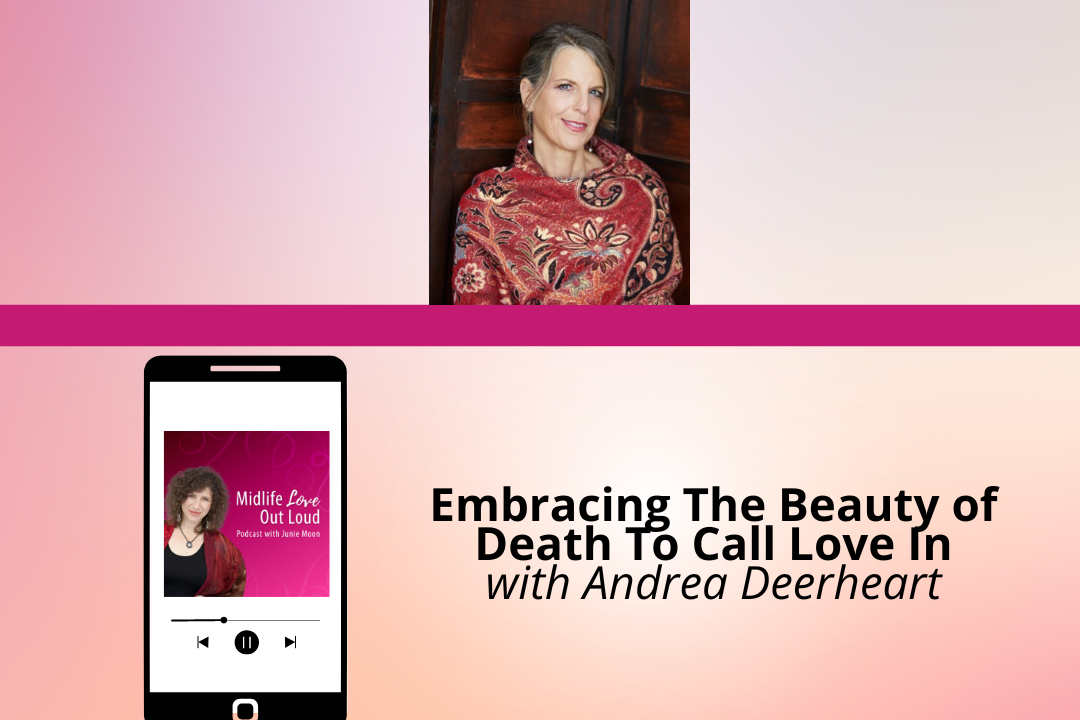 In our culture, we don't talk about death. It scares us, and yet, it's everywhere and part of life. What if we could actually embrace death in a new way that actually opens us up to a more fulfilled life?
What if embracing the beauty of the inevitable end can be a transformative and life-affirming journey?
In this episode, I had the deep honor of interviewing  Andrea Deerheart about this huge topic. She shared how death and dying can lead us to experiencing a more rich life. Dearheart also shared a powerful tool called Yoga Nidra, which helps us be more in the present moment and magnetize more love into our lives.
Take a deep breath and enjoy this new perspective on death, dying and opening to love out loud.
Dr. Andrea Deerheart is the passionate founder of The HeartWay, a nonprofit organization dedicated to embracing life by honoring death. She is the author of Yoga Nidra: Graceful Transitions, Elli's Ride: Death Beyond Imagination, Principles of End-of-Life Care & Clinical Skills for End-of-Life Practitioners. Using wisdom gathered from decades of guiding the living and dying physically, spiritually, and psychologically, Dr. Deerheart has provided loving care, education, counseling, and ministry dedicated to co-creating a visionary map with the dying and their families. With this map, she helps people navigate the labyrinth of fear, perplexing medical systems, emotional and spiritual landscapes, and practical end-of-life decisions. She also offers diverse programs emphasizing the relevance of the lessons learned near death for living a more loving and compassionate life. Dr Deerheart is an End-of-Life Practitioner, Mythologist/Depth Psychologist, Yoga Nidra Master Teacher, & Mamani. She is a sought-after consultant, educator, writer, and poet.
Watch her Yoga Nidra Graceful Transitions Youtube Video here:  https://www.youtube.com/watch?v=xzw0T-oh1Kg&t=42
Find her on Facebook here: https://www.facebook.com/theheartway
And on Instagram here: https://www.instagram.com/the.heartway/
Take the "Discover Your Love Avatar" QUIZ!  You'll learn about your super power, the love blocks that hold you back and how relationship ready you are. Go to: https://midlifeloveoutloud.com/lovequiz/
If you'd like some one-to-one coaching with Junie, apply for a complimentary 30-minute Love Breakthrough Session here: https://calendly.com/juniemoon/lbtsession today so she can support you on your love path.
And don't forget to subscribe to Midlife Love Out Loud so that you don't miss a single episode. While you're at it, won't you take a moment to write a short review and rate our show? It would be greatly appreciated!
To learn more about our previous guests, listen to past episodes, and get to know your host, go to https://midlifeloveoutloud.com/  and don't forget to join the FIND FABULOUS LOVE AFTER 40 group on Facebook here: https://www.facebook.com/groups/findfabloveafter40