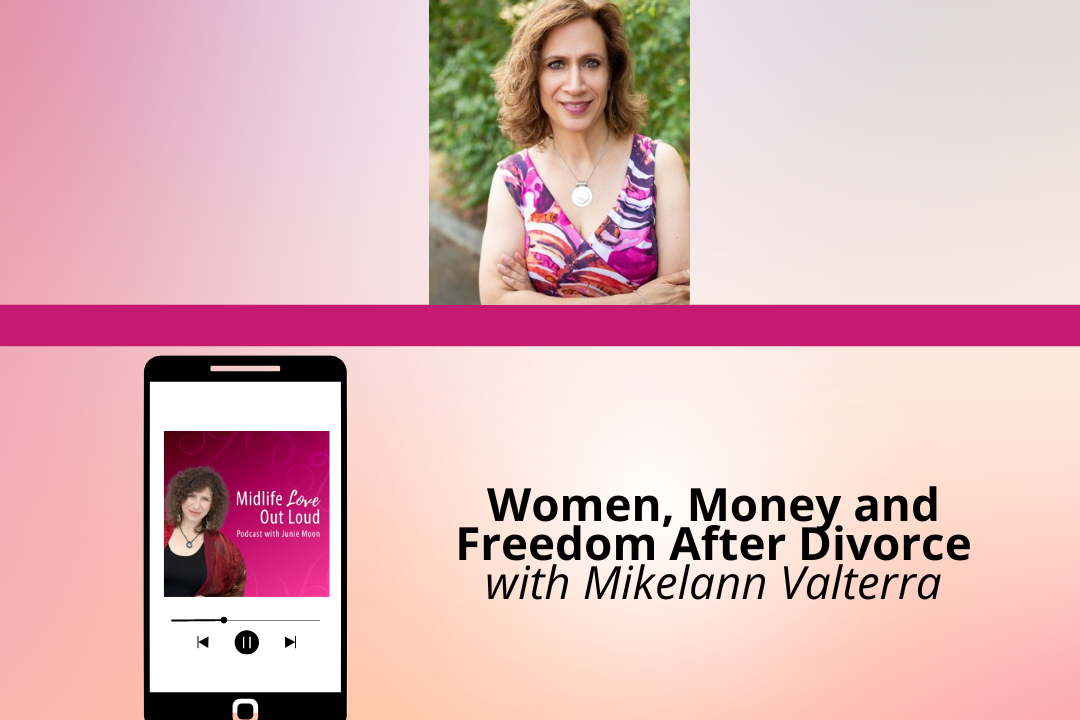 Being in the second half of life and dreaming about your future can be exciting. It can also be scary if you don't understand your finances.  Mikelann Valterra, a master money coach, has been where you are and knows how to navigate these sometimes confusing money waters.
In this episode Mikelann shines a light on some very important aspects of planning for your future as well as enjoying your present. This is so much more than how to invest or what's in your bank account. This is about your happiness and creating a life you love feeling empowered, clear and in charge.
For more than two decades, Master Money Coach Mikelann Valterra, MA, AFC, has helped women transform their relationship to money. A highly respected expert in financial psychology, she has written and spoken extensively on powerful, practical ways to reduce money anxiety as well as effective methods for earning, saving, reducing debt, and managing money.
Mikelann has been quoted in national publications, including Forbes, USA Today, and Business Insider. She also guests on podcasts all over the world. Mikelann is the author of Rise Above the Money Fog: The key to confidence, clarity, and control. When not writing and speaking, she teaches clients how to rise above the money fog and craft their ideal life—letting go of financial stress forever. When not working, you can find Mikelann on the dance floor indulging her love of Argentine tango.
Grab her free opt-in eBook on how to stop stressing about money here: http://www.seattlemoneycoach.com
Out in September her book: Rise Above the Money Fog: The Key to Confidence, Clarity and Control Over Your Life. 
Find her on Facebook here: https://www.facebook.com/MikelannSeattleMoneyCoach
And on Instagram here: https://www.instagram.com/seattlemoneycoach/
Take the "Discover Your Love Avatar" QUIZ!  You'll learn about your super power, the love blocks that hold you back and how relationship ready you are. Go to: https://midlifeloveoutloud.com/lovequiz/
If you'd like some one-to-one coaching with Junie, apply for a complimentary 30-minute Love Breakthrough Session here: https://calendly.com/juniemoon/lbtsession today so she can support you on your love path.
And don't forget to subscribe to Midlife Love Out Loud so that you don't miss a single episode. While you're at it, won't you take a moment to write a short review and rate our show? It would be greatly appreciated!
To learn more about our previous guests, listen to past episodes, and get to know your host, go to https://midlifeloveoutloud.com/  and don't forget to join the FIND FABULOUS LOVE AFTER 40 group on Facebook here: https://www.facebook.com/groups/findfabloveafter40