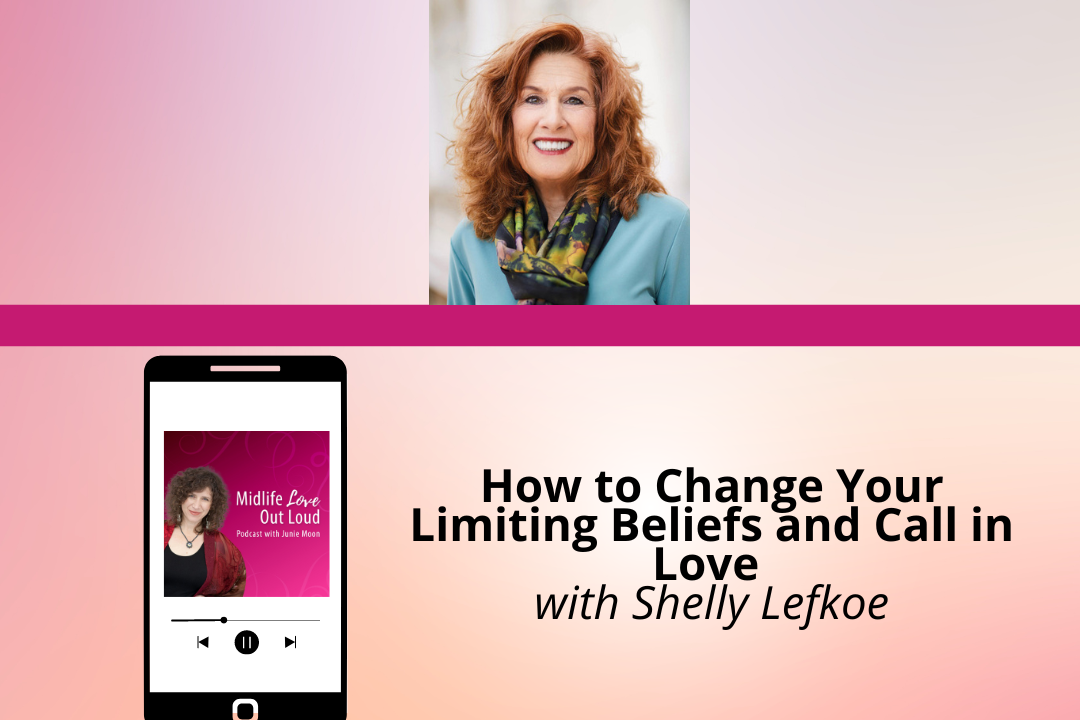 Your beliefs are powerful – and most of them are unconscious. So whether you are aware of it or not, your beliefs keep you from being, doing and having everything you want for your life – including great love.
Those limiting beliefs were formed in the past when you created meaning to your past experiences. If you want to eliminate the "problems" in your life, eliminate your limiting beliefs.
So how do you eliminate limiting beliefs?
Tune into this episode with limiting belief expert Shelly Lefkoe and learn how to get rid of any negative emotion in the moment and how to eliminate limiting beliefs.
Shelly Lefkoe is co-founder of the Lefkoe Institute (TLI). Her clients are people who've struggled with changing long-standing behavioral and emotional issues such as procrastination, fear and relationship issues … and her approach frees them to live more joyful lives. She does this by identifying the root causes of their problems – limiting beliefs. And she can eliminate these beliefs in a matter of hours. Her approach has been validated by independent research from the University of Arizona and published in the journal Clinical Psychology and Psychotherapy. So far her Lefkoe Institute has helped over 15,000 individuals make lasting changes to their behavior and emotions. Her online programs have reached over 150,000 people worldwide. Shelly is also a well-loved keynote speaker and workshop leader. Her new book "Hitting the Wall – eliminate the beliefs that sabotage your business and your life." will be released in August 2023.
Eliminate a belief for free here:  eliminatebeliefs.com
Find Shelly here: lefkoeinstitute.com
FB and IG social media handles
https://www.instagram.com/shellylefkoe/
https://www.youtube.com/user/mortylefkoe 
https://www.facebook.com/shelly.lefkoe
https://www.facebook.com/LefkoeInstitute
linkedin.com/in/shellylefkoe
Take the "Discover Your Love Avatar" QUIZ!  You'll learn about your super power, the love blocks that hold you back and how relationship ready you are. Go to: https://midlifeloveoutloud.com/lovequiz/
If you'd like some one-to-one coaching with Junie, apply for a complimentary 30-minute Love Breakthrough Session here: https://calendly.com/juniemoon/lbtsession today so she can support you on your love path.
And don't forget to subscribe to Midlife Love Out Loud so that you don't miss a single episode. While you're at it, won't you take a moment to write a short review and rate our show? It would be greatly appreciated!
To learn more about our previous guests, listen to past episodes, and get to know your host, go to https://midlifeloveoutloud.com/  and don't forget to join the FIND FABULOUS LOVE AFTER 40 group on Facebook here: https://www.facebook.com/groups/findfabloveafter40