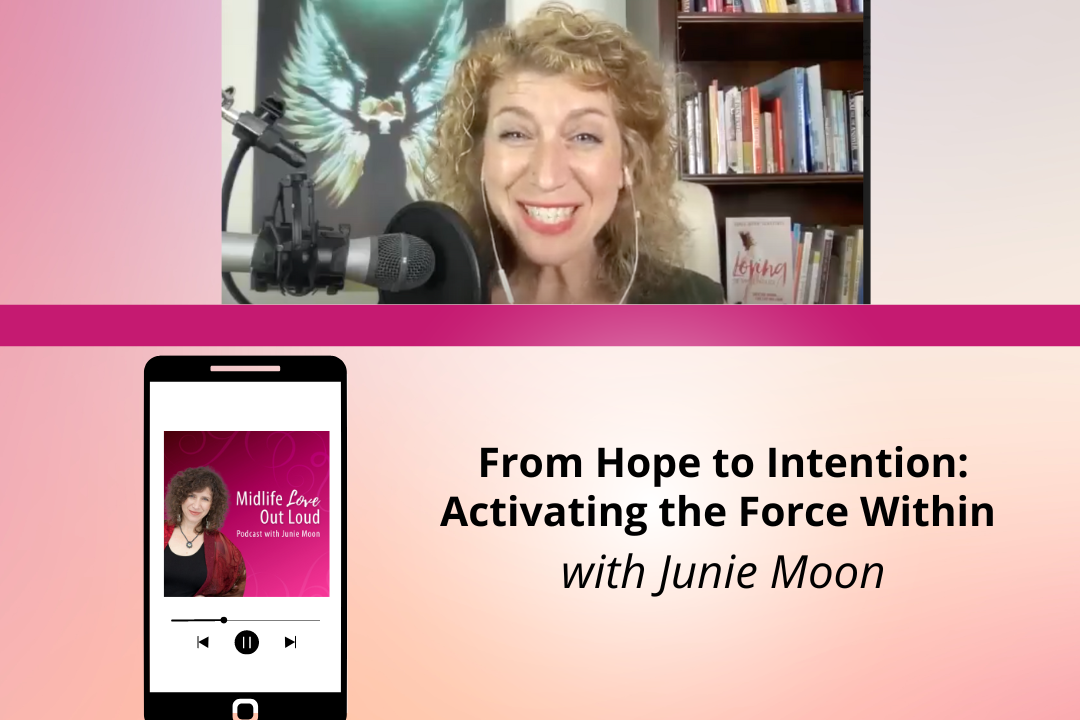 Hope, often perceived as a longing for something you don't have, can stem from a sense of lack or unfulfillment. I see it as a passive waiting for something external to change or happen.
On the other hand, desire feels more like an active force, a spark ignited within us, pulling us towards our dreams. By shifting your perspective from hope to desire, you step into the driver's seat of your life. Instead of merely hoping, you begin to trust yourself and tap into the power of (wo)manifestation!  You become an intentional architect of your new life chapter, planting seeds of what you want, and taking deliberate actions to bring your desires to fruition. This shift empowers you to embrace your innate potential and create the life you dream of, proactively shaping your own journey.
If you truly desire to have a spectacular second half of life, empowered, joy-filled and on your terms, listen in.
Junie Moon, CEO of Midlife Love Out Loud, a Global Love Mentor, Best-selling Author, Women's Empowerment Leader, and Certified Shadow Work Coach, has supported thousands of women over the past 30 years to claim what is their birthright: the freedom to be and love themselves without apology. When women experience this freedom to love themselves without apology, they attract life-long Next Level Love and experience an extraordinary second half of life.
Take the "Discover Your Love Avatar" QUIZ!  You'll learn about your super power, the love blocks that hold you back and how relationship ready you are. Go to: https://midlifeloveoutloud.com/quiz/
If you'd like some one-to-one coaching with Junie, apply for a complimentary 30-minute Love Breakthrough Session here: https://calendly.com/juniemoon/lbtsession today so she can support you on your love path.
And don't forget to subscribe to Midlife Love Out Loud so that you don't miss a single episode. While you're at it, won't you take a moment to write a short review and rate our show? It would be greatly appreciated!
To learn more about our previous guests, listen to past episodes, and get to know your host, go to https://midlifeloveoutloud.com/  and don't forget to join the FIND FABULOUS LOVE AFTER 40 group on Facebook here: https://www.facebook.com/groups/findfabloveafter40